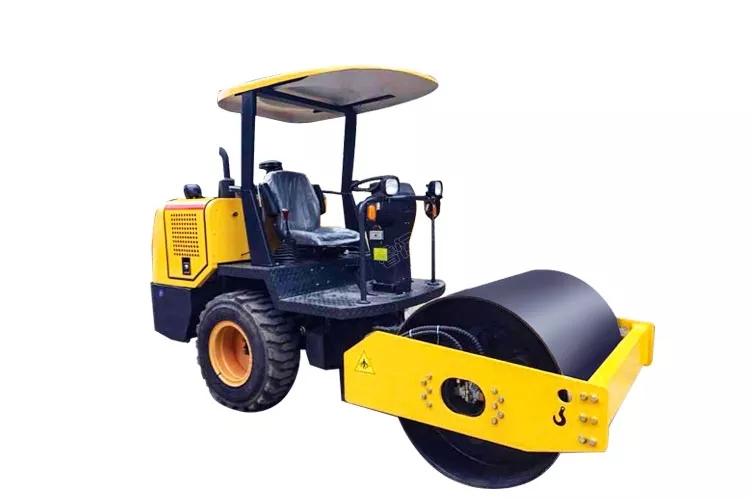 On the new 3.5T roller, we focused on improving the edge-bonding compaction process. In this way, the edge closing compaction process that originally needed to be completed by small rollers is omitted.
Work efficiency increased by 20 %, unit compaction fuel consumption is lower.
You can choose hand-launch or electric start, it is recommended to hand-launch, in the case of low air temperature choose electric start.
Hydraulic transmission mechanism, starting smoothly, will not cause wear marks on the road.
PRODUCT FEATURE
1.Famous brand engine, superior performance ;
2.Work radius is small, can work in narrow space ;
3.Hydraulic vibration, large exciting force ;
4.Beauty, smooth lines, rust resistance and corrosion resistance.
Don 't worry about product quality problems because these machines have passed the EU CE, France TUV, ISO quality certification.
Don 't worry about shipping, we ' ll choose the nearest shipping place to ship at the shortest time.
We offer you the manufacturer ' s price, which may be the most cost-effective Road roller.
Request a quote online.
PARAMETERS
| | |
| --- | --- |
| Model | HW-3.5T |
| Working weight (kg) | 3500 |
| Exciting force (Kn) | 45 |
| Engine model | Changchai Water Cooled 390 |
| Engine power (kw) | 28.5 |
| Static line load (N/cm) | 57 |
| Walking speed (km/h) | 1.95-7.15 |
| Amplitude (mm) | 0.6 |
| Vibration mode | Hydraulicsteering,hydraulicvibration,mechanicaldrive |
| Gradeability (%) | 30 |
| Walking style | Rear wheel drive |
| Vibration frequency (Hz) | 70 |
| Start method | Electric start |
| Dimensions (mm) | 3500*1390*2200 |
| Water tank volume (L) | 30 |
| Steel wheel size (mm) | φ1000*1200 |
| Hydraulic oil tank volume (L) | 60 |
| Drive method | Full hydraulic drive |