The HW8000L Crawler Dumper is specifically designed to cater to the requirements of water conservancy construction, orchard transportation, mountain climbing, and engineering transportation.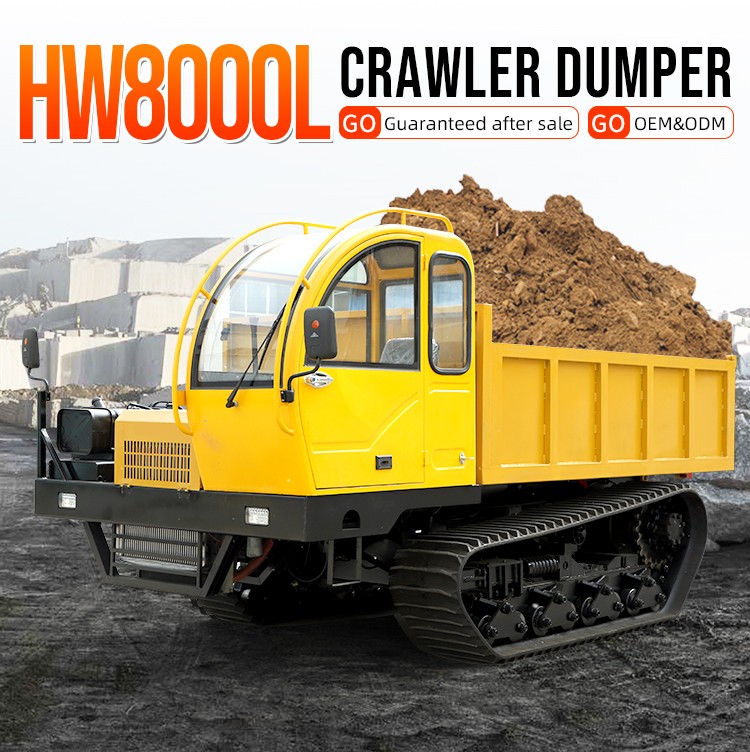 Parameter:
Here are the key specifications for this product model.
| | |
| --- | --- |
| Model | HW8000L |
| Overall size (L*W*H) (mm) | 4200*2000*2200 |
| Engine model | 4105 |
| Power (kw) | 76 |
| Max. running speed (km/h) | 15 |
| Max.payload (T) | 8 |
| Weight (Kg) | 4000 |
Main features:
1. Engine Options: The HW8000L Crawler Dumper provides the option to select either diesel engines or electric engines based on specific preferences and requirements.
2. Hydraulic Self-Unloading Function: Equipped with a hydraulic self-unloading system, the dumper reduces the need for manual labor, resulting in saved human resources and improved operational efficiency.
3. Strong Terrain Adaptability: With its capability to climb steep slopes of up to 45°, the HW8000L Crawler Dumper exhibits excellent adaptability to various terrains, making it suitable for challenging environments.
4. Accessory Compatibility: The dumper can be equipped with additional accessories such as cranes, grapples, and other attachments, allowing for enhanced functionality and versatility in fulfilling different tasks.
Quote now to get the best price.